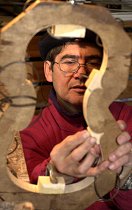 I was born in Trelew , Argentina in 1954.
When I started my activity I was a self taught violin maker, later on I worked at the workshop of Alessandro Bertoncello ,in Bueno-Ares. It was there and then , that I constructed my first instruments, and made restoring practice. During this period I was acquainted with the work of the Italian violin makers, that had arrived in Argentina from the second half of the XIX C. up to 1950 approximately, in search of better work Opportunities which in those time were offered by the New Continent.
Among the best known violin makers , the following can be named. Dante Baldoni, Luigi Rovatti,
Luigi Lanaro, Giovanni Capalbo, Alfredo del Lungo, Camillo Mandelli, Alcides Gavitelli, Francesco Militello etc.
In order to perfectionate the technique of construction I moved to Cremona , Italy. This City known and associated over the word, to the name of Antonio Stradivari, notorious cremonese vilin maker, As well a to the Amati and Gauarnieri families wich given fame and prestige to this small city of the Po plain.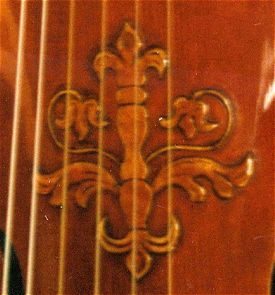 I attended the superior level of construction and restoration at the Civic School of Violin Maker in Milano (Scuola Civica di Liuteria e Restauro) obtaining my diploma as Restorer of Cultural Properties.
In Cremona, I also attended the course of Construction and Restoration of Bows, of the Lombard Region.. In 1990 I opened my first workshop in Via Bissolati 17 ,in 1994 I moved to Via Sicardo 12 and from 1999 my workshop is situated in Piazza S. Antonio Maria Zaccaria 11 ( Piazza del Duomo), in the civic and Historical centre of the city.
Apart from violins, viols , and cellos I also specialized in baroque instruments such Viola da Gamba, Viola D'amore. Example of these works can be appreciated in this web site and to get more information you can send an E-mail or contacted me by telephone.